New brand EQUINOX improves quality of European cycle market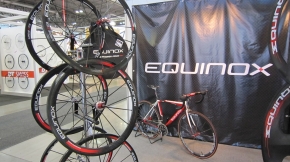 12. July 2010
The company Equinox Europe has today announced its entrance onto the European market. The Equinox brand will cover a wide portfolio of complete carbon wheels and other cycling components from the same material which it manufactures in its Taiwan factory.
The Equinox brand is focused on development, manufacture and technical innovation. Currently one of the lightest carbon fibre wheels in the world bears its name. The brand will be officially introduced to the Eastern European market at the Bike Brno Trade Show. Its first products should reach cycle shops in September 2010.
Equinox Europe is a newly set-up firm with Equinox Taiwanese manufacturers owning a third of its shares. Its headquarters are located in the Czech Republic, from where it will manage distribution of its carbon fibre products to every country within Europe. The company's ambition is to become one of the market leaders in carbon bicycle wheels and carbon accessories within five years.
'We want to offer European consumers a wide selection of carbon wheels and other components at the technical and technological cutting edge, with exceptional design, the highest quality possible and with servicing and a guarantee direct from the manufacturer. All this for a reasonable price,' plans company director Milan Šimek. 'Our new brand should appeal to cyclists who demand the latest technology, comfort and design.'