Cycle Ball Domination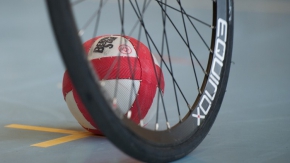 01. January 2015
You wouldn't except carbon here
Cycle ball is quite exotic sport. If you've never seen it, let us sum it up for you. Two teams of two are playing a game very similar to footbal except… They play on their bikes.
A few years ago, the common knowledge was that carbon wheels are too fragile for such a game. The players are hitting the 600g ball with their wheels so hard that it could break your nose. In fact broken forks are pretty common. Yet we took this as a challenge. Thanks to the cooperation with three times world champion Peter Jiricek and his Star Bicycle team, we've developed something exceptional together.
A few years later most of the top teams are winning on Equinox wheels. We've also leveraged this experience to make our other wheels better so everyone can enjoy the incredible solidity of cycle ball wheels. Even if your cycling style a more or less different.
Thanks to all the cycle ball teams. You make us proud. Keep doing what you love.
Photos: http://www.uci.ch/indoor-cycling/